Tackling the most complex aspects of our society—poverty, health, inequality, social connectedness—requires innovative solutions designed by and for those who have been historically underserved.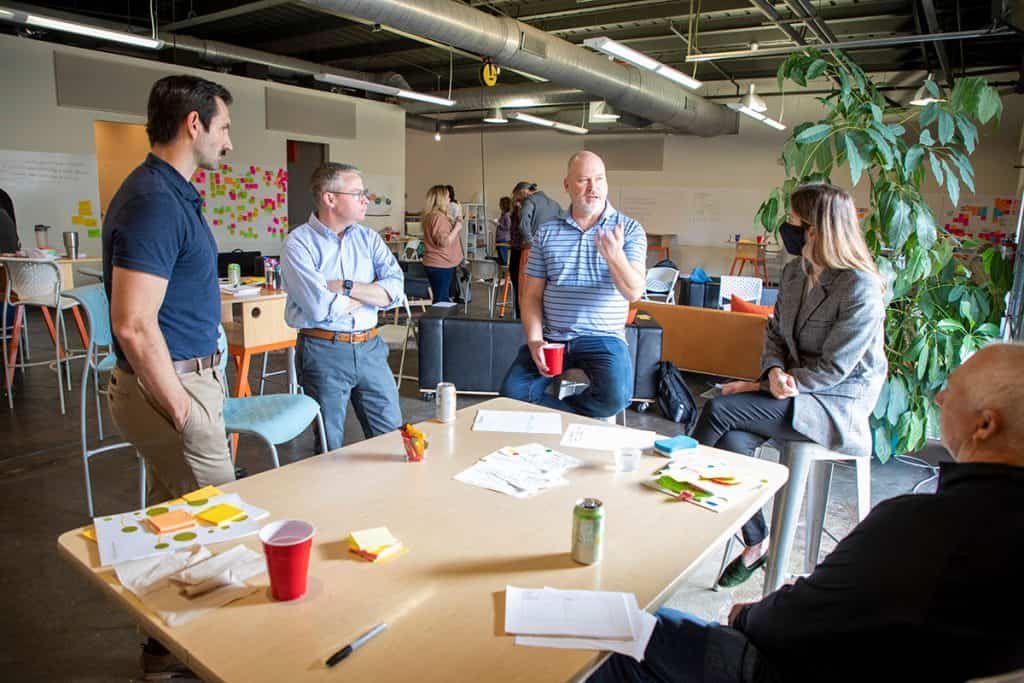 Epic Pivot applies a human-centered design framework to help non-profits, municipalities, foundations, and public institutions better understand stakeholder needs and align actionable strategies toward transformative social change. Social Impact Design ensures that our systems, institutions, and services are accessible, equitable, authentic, and meet the true needs of the communities we serve.
Epic Social Impact Design services include:
Strategic planning and Mission Alignment
Align and activate your staff and board toward sustainable, scalable growth. We help you envision your organization's highest and best purpose and develop ambitious, actionable strategies that inspire—helping you reinvigorate your organization to create lasting impact.

 

Using a human-centered approach ensures that your strategic plan will actually be implemented. The strategies we help you develop are informed by a holistic understanding of your organization's culture, the needs of those you serve, and the social, political, and funding ecosystem in which you operate.
Funders and policymakers: We approach our work with a socio-ecological lens that considers the dynamic, interrelated systems that impact individuals, communities, and society. Our interdisciplinary research team can support your efforts to design more effective, innovative policies and programs that help you understand and capitalize on these human-environment-institution relationships.
Community-engaged program design and evaluation
Deliver the most innovative, effective programs and services to your community through meaningful engagement. We bring your clients to the table, listening with deep empathy to their needs and experiences to help you build trust, improve access, and create more effective, equitable programs.
Using a participatory design framework, we allow your clients and other stakeholders to co-create the programs and services that would add the most value to their lives, finding key pivot-points to improve the design and delivery of services.
We believe that the best evaluation tools improve, rather than impede, your ability to carry out your mission. We work with your team to develop meaningful measurement frameworks that capture the true impact of your work, helping you pivot with purpose and allowing you to tell your story through data.
Donor Experience, Fundraising, and Communications
Find innovative ways to engage more deeply with your supporters at every step of their giving journey. Uncover the motivations, emotions, and priorities of your donors and funding partners to identify key drivers of giving, and establish a highly-engaged, sustainable network of support.
Identify and target your high-potential prospects with messaging that inspires people to carry the banner of your mission. Develop fundraising, marketing, and communications strategies, with meaningful calls to action that galvanize your community to give time, talent, and resources to your cause.
No Results Found
The page you requested could not be found. Try refining your search, or use the navigation above to locate the post.
A proven record of success
We have led more than 250 successful engagements in transformation, innovation, insights, and strategies. We've worked with Fortune 100 corporations to small businesses, nonprofits of all sizes, military service branches, municipalities, and private equity groups. We've touched many sectors in 15+ years of running. Check out highlights from our portfolio and industries served here.